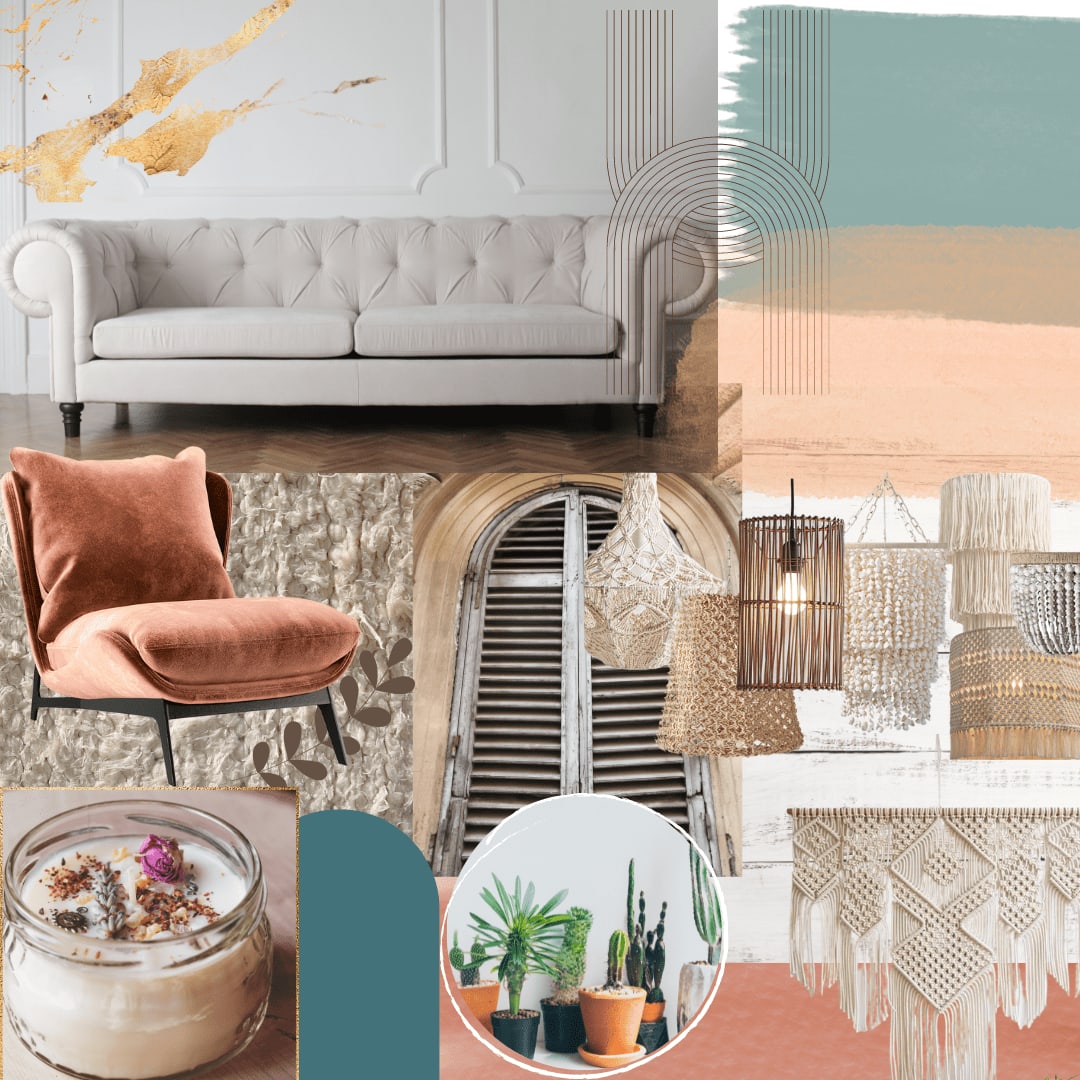 2023 is brimming with new home trends and decor and we are excited about it!
Did you just purchase your first home and are looking for inspiration? Every week, we will be sharing our take on all things home decor. First up is the beloved Boho trend that has evolved from Volkswagen vans, daisies and peace signs to teak wood, soft cottons, heavy textured carpeting and statement lighting with lots of earth tones and period accents. This style welcomes a peak in your parents attic for some inspiration as well as your local thrift shop. You can find great inspiration going to neighbourhood sales when the season calls for it.
DESIGN AESTHETIC | VERSION 1 | CLASSIC BOHO
DESCRIPTION | A free-spirited presentation that mixes different cultures and artistic expressions. An eclectic yet clean vibe with organic elements.
THE TOOMBS TAKE

THE COLOUR PALLET | Sage, terracotta with hints of mauve and gold

WALL ART | Abstract prints + Macrame: Both are in style all year round. You can hang a mixture of muted abstract prints and subtle macrame hangings if you don't want to splurge on a large piece. This is a great time to do some fun DIY projects like canvas's painted with abstract shapes.

LIGHTING | There are so many gorgeous light fixtures that play on the boho style, from wood chandeliers to interesting geo elements. Don't be afraid to add a large statement lighting and smaller lighting throughout your space.

SEATING | Showcase your seating! A soft velvet fabric or creamy cotton pairs well. Oversized cozy furniture right through to modern minimalistic chairs and sofas can be used with this decor as it focuses heavily on wall accents, carpeting, shelving and scents. Oversized throw pillows in sage, light tan and rose is a nice way to bring in colour. If you have little ones running about the house this offers extra seating in a creative way.
TABLE | Wicker glass top tables look fantastic in a boho room. You can find ornate styles at just about any furniture store. You can always use a solid wood table as well.

WARMTH | Use a highly textured rug to bring it all together.

INSPIRATION | I like to reference creative architecture for different shapes and materials.

SCENTS | Dough bowl candles have taken flight over the past year and you can add essential oils to bring in an earthy scent to your space. Eucalyptus, Sage, Sandalwood, Citrus, Patchouli, Evergreen are all fresh and clean.
ACCENTS | Candles, brass treasures, old books, travel mementos & coloured vases.
GREENERY | One of the main elements to this aesthetic is greenery. All types. If you don't have a green thumb, select some artificial smaller plants, cactus or dried flowers work well.